I recently updated the my VCL UI pack from the subscription manager and afterwards, when I open RAD Studio, I get a series of error messages that look like this: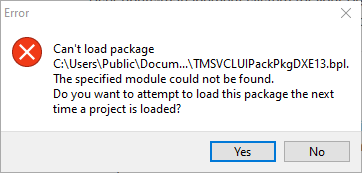 Things I've tried:
Checking if the file exists at that location. It does not.
Searching my entire harddrive for the files. It's not there.
Making sure that every previous file and folder is deleted before a fresh install. Didn't help.
Downloading the installer directly from the website instead. Didn't help.
Rolling back to the previous version. Didn't help.
Making sure I ran the installer as administrator. Didn't help.
I don't know what version I was on before this but it had been a while since I updated. I shouldn't have any weird permission or security settings on my computer. Just your average personal home computer. Any idea what is causing this to happen or how to fix it? Why would the installer not write the bpl files?