Hello,
i am trying to use the Maps Component on Windows (Delphi 11), and noticed 2 problems.
1.) class vars can not be published (according to what i found), i am not sure if this is only related to Delphi 11, but i had to change
class var FEdgeLocation: string;
to
public
class var FEdgeLocation: string;
for my Application to even Compile
2.) Is an error that only popped up after the new Year (happy new Year btw)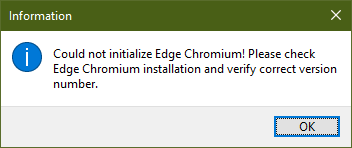 After looking into the code a bit it seams that the relevant command (WMIC DATAFILE) does return "No Instance(s) Available"
WMIC.exe PRODUCT where "NAME='Microsoft Edge'" GET Name,Version /value
Returns (very slowly):
Name=Microsoft Edge
Version=96.0.1054.62
the msedge.exe prior (pf / pfa) has been detected correctly.
Anything i can do to fix this issue?
~Best Regards
p.s. Updating to the newest Component Versions did not fix the issue
edit:
I had an misunderstanding on what was executed, the return of the first command is 'Version=96.0.1054.62' it seams that "CreateCoreWebView2EnvironmentWithOptions" seams to fail in some manner. It returns: -2147024894 (Pointer?); S_OK is at 0
Lines (TMSFNCWebBrowser.Win) 1362 (call) 1372 (Error)
edit2: i can set EdgeSilentErrors to disable those annoying popups, but of cause that just means that the map doesn't work at the end.