Hello
I did not know that you have FNCPDFLib in order to create PDF documents at least for iOS and Android correct?
I need to create custom PDF in order to be printed at bluetooth printers, I show you the next images in order you to know what I need to acomplished: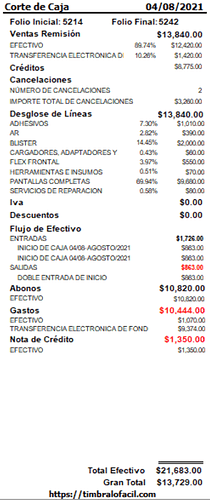 I have a lot of questions and I want you to be honest and tell me what is possible to do and what is not, so here are my topics:
How to "calculate" the height of the PDF on the fly and increase it without need to know the exact size before PDF creation, this is because on my code step by step I will travel my user data input.

How to converse the 58mm width of most bluetooth printers paper into your PDF unit of measure, I mean I do not know if your width measure is screen points so in real life how to convert 58 milimeters into the appropiate width for the FNCPDFLib component.

How to CENTER text based on the step before "the width" on any part of the PDF result.

Is it possible to introduce "tabs spaces" so in a text rectangle I can see dent spaces?

How can tail align text as showed on the previous receipt images, represented by currency data?

In some of your documentation I saw is it possible to automatically wrap text or split into several lines based on the length of the caracters right?

How to stretch an image logo and draws at the begining of PDF document?
In general I wish to have all the necessary document material in order to use it at my own convinience, if you already have DEMOS for POS printers will be very useful.
In case you do not have demos I can create them and share with you, but please give me all the docs and tips in order to use your FNCPDFLib component at maximum POS capabilities.
Thanks