Hi,
I have found a problem that is tied with the AdvRichEditor toolbars somewhat.
I will try to explain myself as clear as posible.
I have a TForm with a TAdvRichEditor, TAdvDockPanel and some TAdvRichEditor toolbars - Edit, Format, ...). If I use that form inside an exe project (loading with ShowModal, for example) is working fine
I added that form inside a DLL because I need that it could be shown from different exe programs. That DLL is loaded dynamically (using SafeLoadLibrary and GetProcAddress) and has been compiled with C++ Builder 11 on Windows 10.
If I run a C++ Builder 11 (Alexandria) little app to load the dll and launch the form, everything works ok but, and this is the nasty problem, if I load the very same dll from a C++ Builder 2009 compiled app and lauch the form, it pops up as it should but inmediately after that, it produces an access violation, I accept and another access violation appears and so on at infinite. It seems to be on an infinite loop 'cos I need to force an application shutdown to close the program.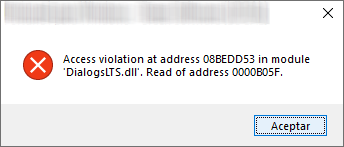 I started to do some tests and I found that:
If I delete the AdvRichEditor toolbars, the problem is gone.
If I set Visible = false in toolbars, the problem is gone.
If I set Enabled = false but Visible = true, the problem apperas again.
Looking for advise or a way to solve it.
Thanks.
P.D.: Using TMS VCL UI Pack 10.7.9.1