I cycled through the demos with my fresh installed Web Coe for VSC and experience problems with the form designer. Every now and then, an error message says that a property doesn't exist, like so: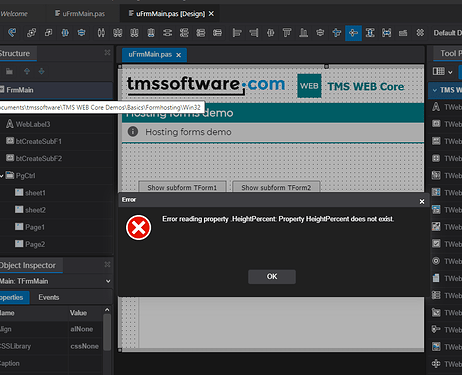 Then, when clicking a couple of times on OK of the error message, the designer freaks out and presents a Sentry error report, like this: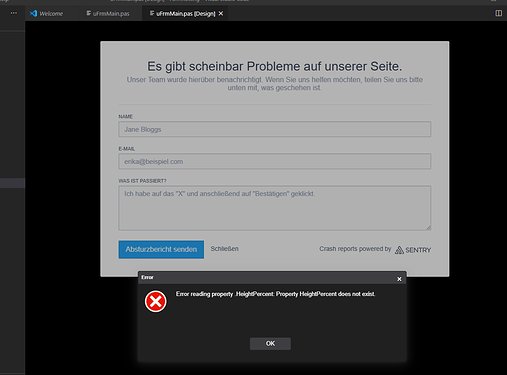 The only way to get rid of the black error message box is by clicking on X.
In addition to that, in some cases a controls bindings to event handlers get lost. This e.g. in particular in the Upload Basic demo. After clicking away the above error messages, in the very moment you click on the file picker control, the file picker loses all event bindings (and maybe properties as well, didn't check that). In the dfm, the control then also appears "naked" (no event bindings).
Now, in this situation, adding the existing event handlers back using the object inspector is possible as normal, BUT, when double-clicking in an event for which no event handler has already previously been created, the view switches to the pas file as normal and for a fraction of a second shows the newly created event handler stub, but this stub then disappears immediately without any user interaction whatsoever, just as if something hit "compile" which makes an empty event handler disappear.
Is this just my installation?
Hope I could make myself clear...
Edit: I found out that the Upload demo is now in a state in which I cannot add additional event handlers to any control by means of double clicking on any empty event in the object inspector. At this point, further development of this app would now be impossible (at least via the designer).