Tested on Delphi 11.1 with TMS FMX UI Pack 3.7.8.0 and targeting Windows 11.
When applying a CommentColor to a cell of an TTMSFMXGrid the color is consistent until font color is overridden by code. E.g. on a blank FMX project add a TTMSFMXGrid, then put this on form's OnCreate:
TMSFMXGrid1.AllCells[0, 1]:='123';
TMSFMXGrid1.Comments[0, 1]:='ABC';
TMSFMXGrid1.CommentColors[0, 1]:=TAlphaColors.Blue;
So far so good, the comment triangle color is a solid blue.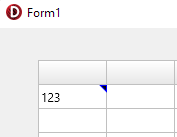 Then add this to the TTMSFMXGrid's OnGetCellLayout event:
ALayout.FontFill.Color:=TAlphaColors.Limegreen;
Now the comment triangle has the border painted blue but the fill is the same color as the text: lime green.