Hi,
If one tries to execute unauthorized request using swagger ui, it gets exception 401 unauthorized.
and swagger ui show it like this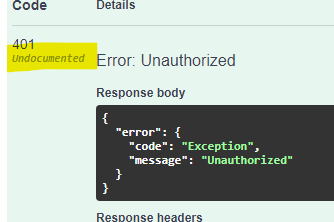 which should be quite clear, but I had anoying emai exchange with one integrator who told me that he gets undocumented error. I asked him to tell me excact error, he tells be that he gets this undocumented error. I ask him .... and so on and so on.


Finally while I was senting him a screensshot I noticed noticed that there is tiny text which says "undocumented". Can I document those somehow ?