Hello everybody,
I've use the newest TMS Aurelius Version. When I Use the Firebird 3 Adapter together with the FIBPlus Driver, I get the ECannotGetLastInsertId Error.
I use Firebird 4 with Autoincrement.
So I debugged a while and find out that the Aurelis.Commands.Inserter will retrieve the next record and read the Returning ID. But the Returning ID will be delivered in the current ResultSet.
Before the call ResultSet.Next the ResultSet.GetFieldValue(0) retrieves the current id-value.
So the call to Result.Next is unnecessary. I think other databases handle the current id in the next resultset, but firebird not.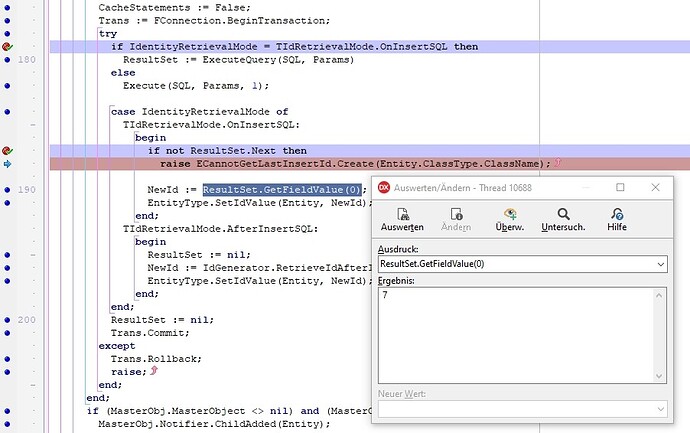 I know Firebird 4 ist not supported, but I think for future Versions of Aurelius is this important. Maybe it's related to Firebird 3? I didn't have testet this behavior in Firebird 3 so far. It's a brand new project I'm working on and I wanted to use the newest release of Firebird beacause of performance improvements.
Thanks in advance!