I have installed TMSFNCCore from the new TMS FNC UI Pack v4.0.0.0 from my registered products manually correctly in Delphi 11.1 Alexandria: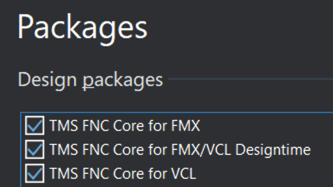 When trying to load any demo project in \TMS FNC Core\Demos\VCL, I get this error message:
---
bds.exe - Entry point not found
The procedure entry point "
@Fmx

@Tmsfncgraphicstypes@TTMSFNCCustomGraphicsFill@$bctr$qqrx47Fmx@Tmsfncgraphicstypes@TTMSFNCGraphicsFillKindxui" in the DLL "C:\Users\Public\Documents\Embarcadero\Studio\22. 0\Bpl\FMXTMSFNCWXPackPkgDXE14.bpl" was not found.
OK
(Translation from German)
Obviously, the demo refers to the PREVIOUS installed version of TMS FNC UI Pack?
Strangely, after clicking the OK button in this error message, I could COMPILE and RUN the demo without any other problems.